Living in an RV comes with its perks. You get to carry your home with you wherever you go. Plus, who doesn't like living in a cute little house on wheels?
However, you can't ignore the fact that space is a big problem in RVs. If you're not organized, your living space can end up looking like a huge mess.
Below, we'll list a few tips and tricks that can help you a great deal in saving space and organizing all your stuff. So, if you want to avoid that dreadful RV clutter, read on!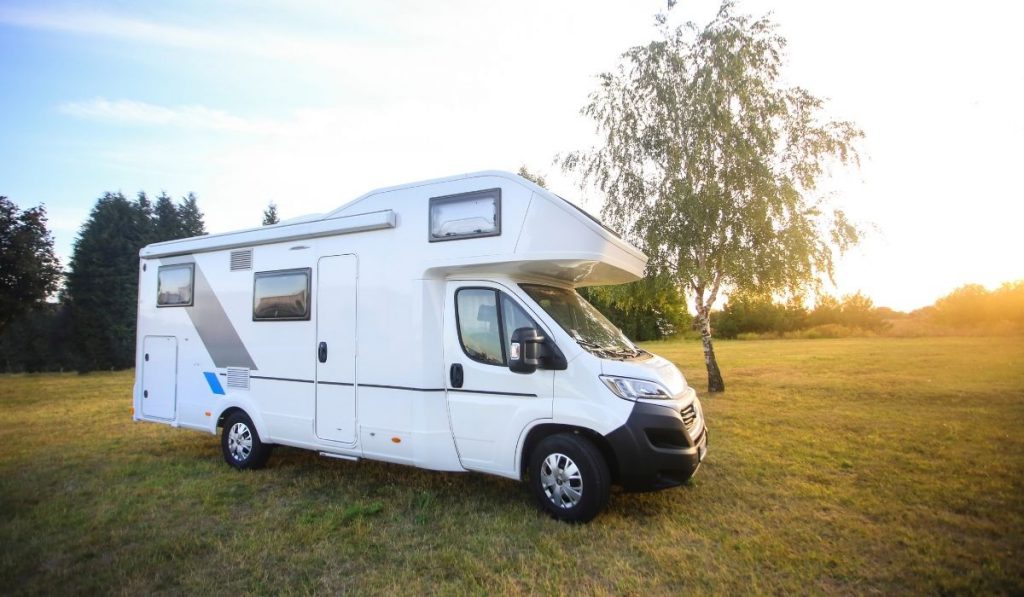 Try an Over-The-Cabinet-Door Trash Can
RVs are already short on space, and with things like trash cans out in the open that easily topple over, it can get very frustrating. For this reason, you might want to get some nifty over-the-cabinet-door trash cans to keep your RV floor clear and feeling spacious.
Open the cabinet when you want to dispose of something, and shut it when you're done. No smell, no garbage in sight.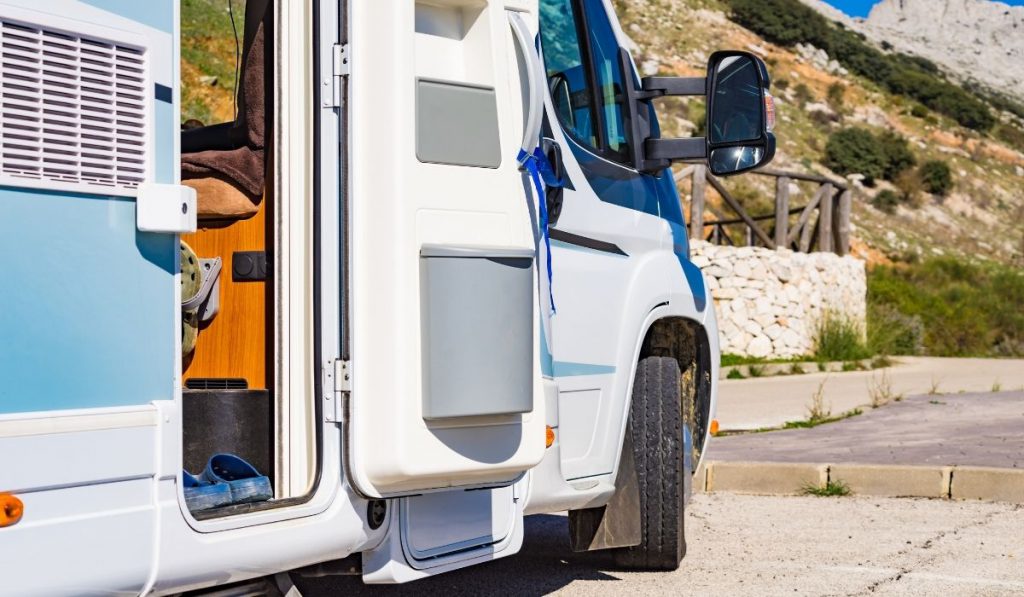 And an Under-The-Cabinet Spice Rack
If you cook often, you'd know that keeping spices organized in cabinets can be difficult. Not only is it time-consuming, but it's also hard to search for spices when they're lined up in rows inside.
An under-the-cabinet spice rack can solve this problem and also save space. All you have to do is pull the rack down and find everything in its designated spot.
Utilize a Supply Organizer
Almost everyone keeps their stuff in cabinets and drawers in their RV. But here's a cool hack: keep things extra organized and safely stored in a divided craft supply or nuts & bolts organizer.
You can use this to store makeup, jewelry, pills, or anything that fits inside. Plus, it prevents the items from moving around too much while on the go.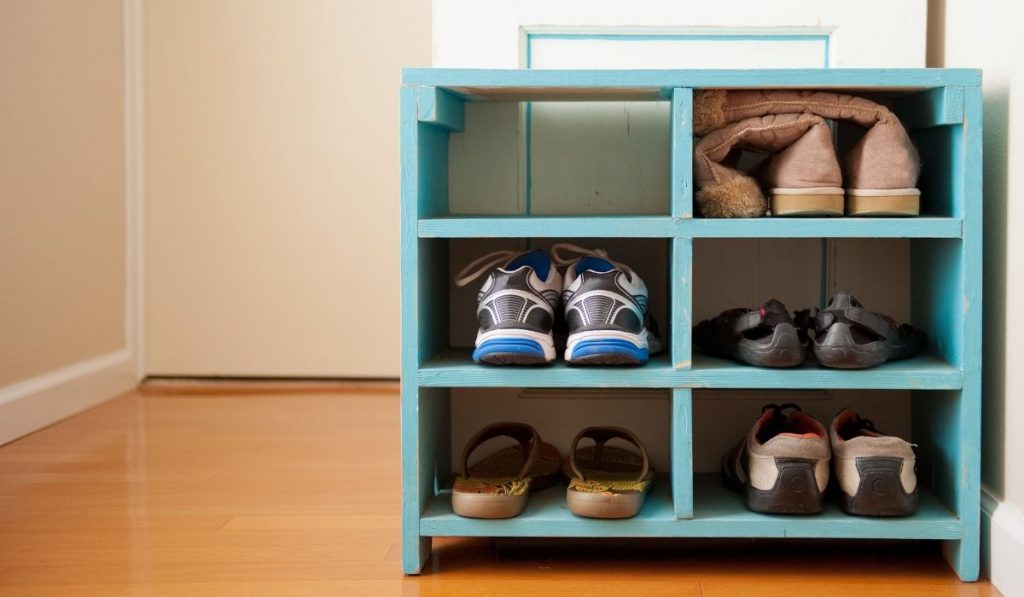 Shoe Organizers Aren't Just for Shoes
If you don't have a shoe rack in your RV, a shoe organizer will save you a ton of space and money. Hang it over a closet door and store a dozen pairs of shoes with ease.
You can also use this to store small items like stationery, hair clips, skincare – whatever fits.
Get Some Baskets for the Cabinets
Since space is tight, cabinets are pretty much the only place to store items in RVs. But looking for things at the back can be a headache, especially if you're short or the cabinets are too high.
An easy fix is keeping stuff in baskets inside the cabinets. Just pull the basket out, and you can quickly find everything from the front to back. Plus, this can also keep things from toppling over when moving.
Improvise Some Bedside Storage
The lack of a bedside table can leave you fumbling around for your glasses or phone every morning. If that's the case with you, a bedside caddy that hangs from under a mattress is what you need. It's a super-efficient way to keep items such as phones, tablets, diaries, etc. in order and close at hand.
Utilize your Oven!
Pans can prove to be a space-wasting clutter, and storing them in cabinets is awkward. Hence, utilize the space inside your oven to store pans and pots when you're not baking.
Bonus hack: use a pan organizer inside the oven to keep them neatly stacked and prevent them from moving around.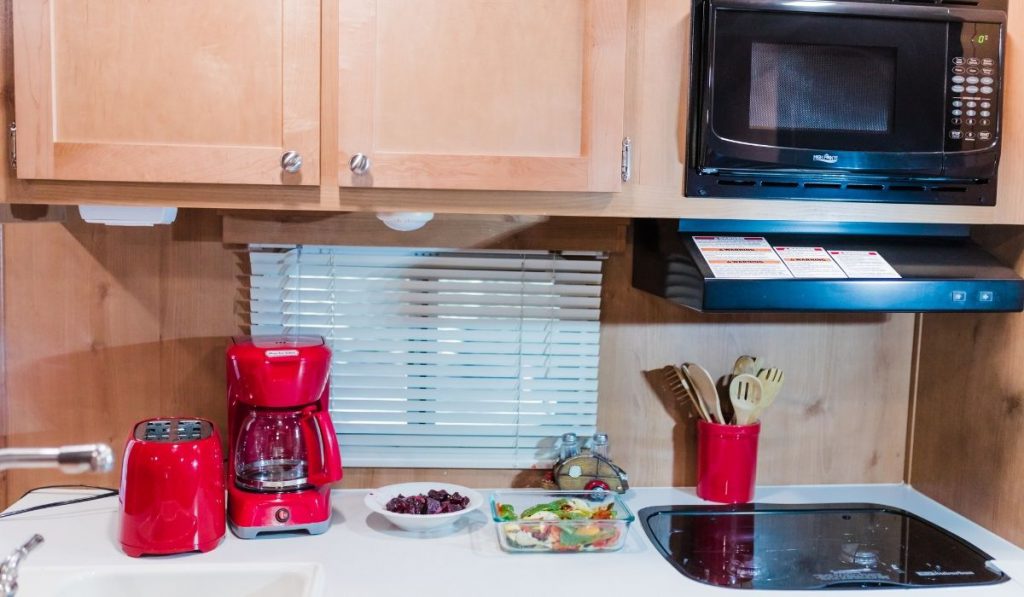 Add a Countertop Storage Shelf
It can get messy while cooking, especially in an RV kitchen. To help keep everything in order, get a countertop storage shelf that adds storage space and gives you easy access to spices and utensils you use frequently.
One Word: Hooks
Get yourself loads of hooks as they can prove to be your ultimate organizing and storage hack.
By installing hooks under cabinets, you can hang spoons, ladles, pans, and other utensils that you use while cooking.
You can also add hooks inside cabinets and closet doors to organize things like scarves, necklaces, or anything that can be hanged.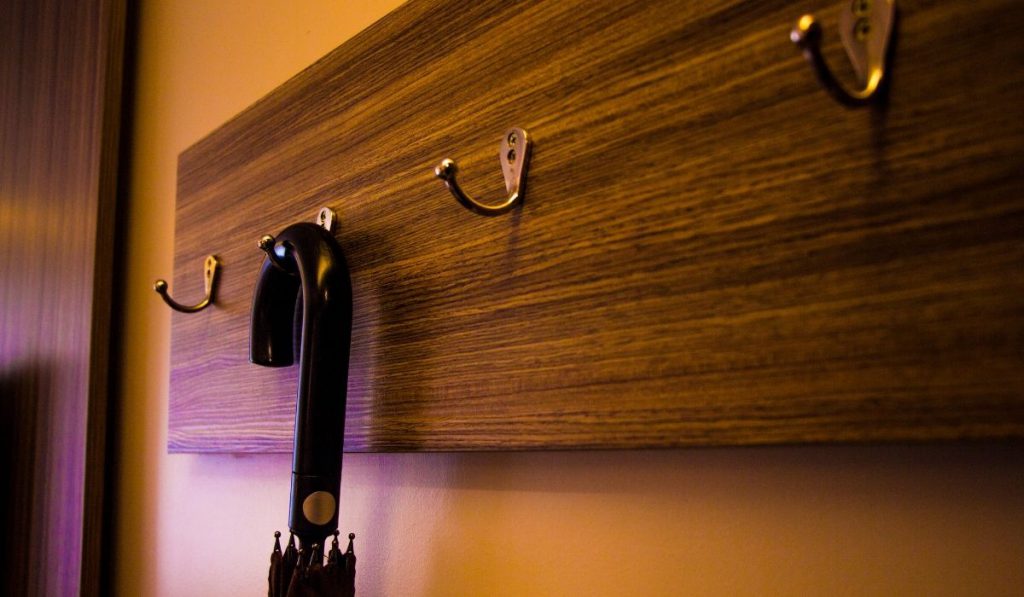 Use Baskets Under Furniture
Another quick and easy way to keep your space tidy is placing stuff in a basket and storing it under the sofa or table – out of sight and neatly stored. Also, if you care about aesthetics, try woven baskets.
Try a Corner Wall-Mounted Basket
Most RVs have tiny bathrooms, and keeping track of things here can be hard. To help keep stuff like haircare and skincare in order, you can try installing corner baskets to store such items neatly.
You can also buy baskets that come with suction cups. That way, you won't need to drill any holes if the surface is smooth.
Install Some Wall Netting
You may end up with items like a beachball that won't fit anywhere. Leaving such stuff lying on the floor can be really annoying – it will get in your way all the time.
So, go ahead and install some wall netting for storing sports items or other awkward objects (make sure you don't place heavy things inside it.)
Put Up Some Hanging Baskets
Cabinets and drawers are great and all, but where do you store fruits and veggies? On the countertop? Or the fridge that's already full?
Answer: a hanging basket! It can come in super handy for fruits and veggies that last long. If possible, get one with multiple layers so you can store different items in their designated baskets.
Under-The-Table Storage
If you don't want to keep anything on the tabletop, there are tons of ways to add storage under the table. While slide-out drawers are the easiest to use, they're harder to install.
So if that doesn't float your boat, you can DIY an under-the-table net to store light to medium-weight items, such as magazines, snacks, etc. However, if you are short on time, you can buy a ready-made storage net for your table.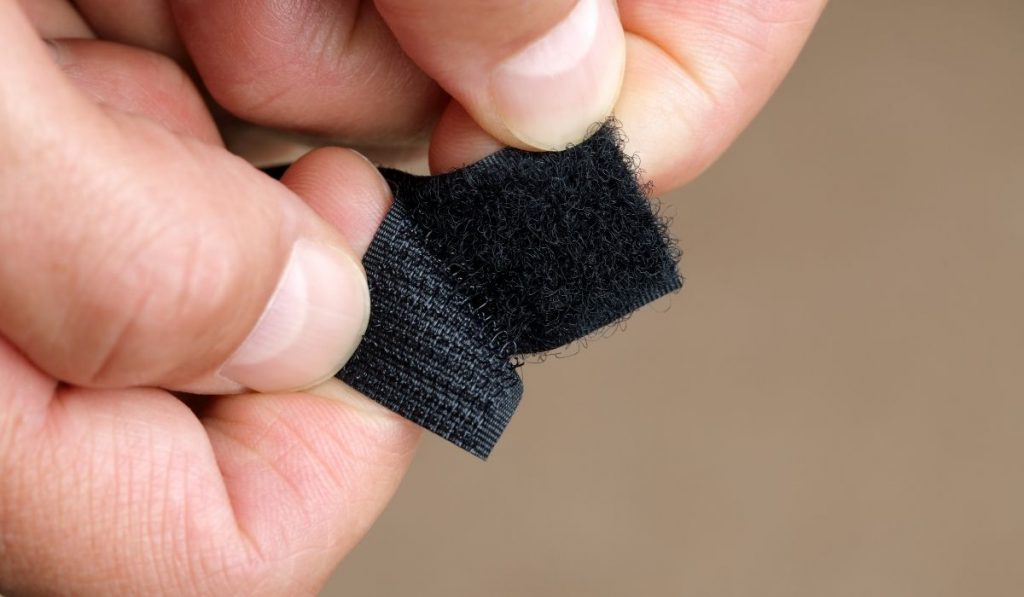 Stick It with Velcro
Not everyone has a table in their RV's lounge. If that's the case with you, we bet you're tired of your remote control getting lost in the sofa cushions.
One easy way to keep your remote control in place is to attach some Velcro on its back and also at a suitable place on a wall. Whenever you're done watching TV, you can hang your remote on the wall, and never lose it again.
Final Words
Stepping into an RV that's overstuffed and a cluttered mess can make you homesick. To keep your belongings assembled, go ahead and try these tips and tricks, and make your RV tidy and spacious-looking.
The best part? With these hacks, you won't have to build anything or renovate your RV. All you'll have to do is spend a few bucks and invest some time installing these items. After that, it's all smooth and tidy.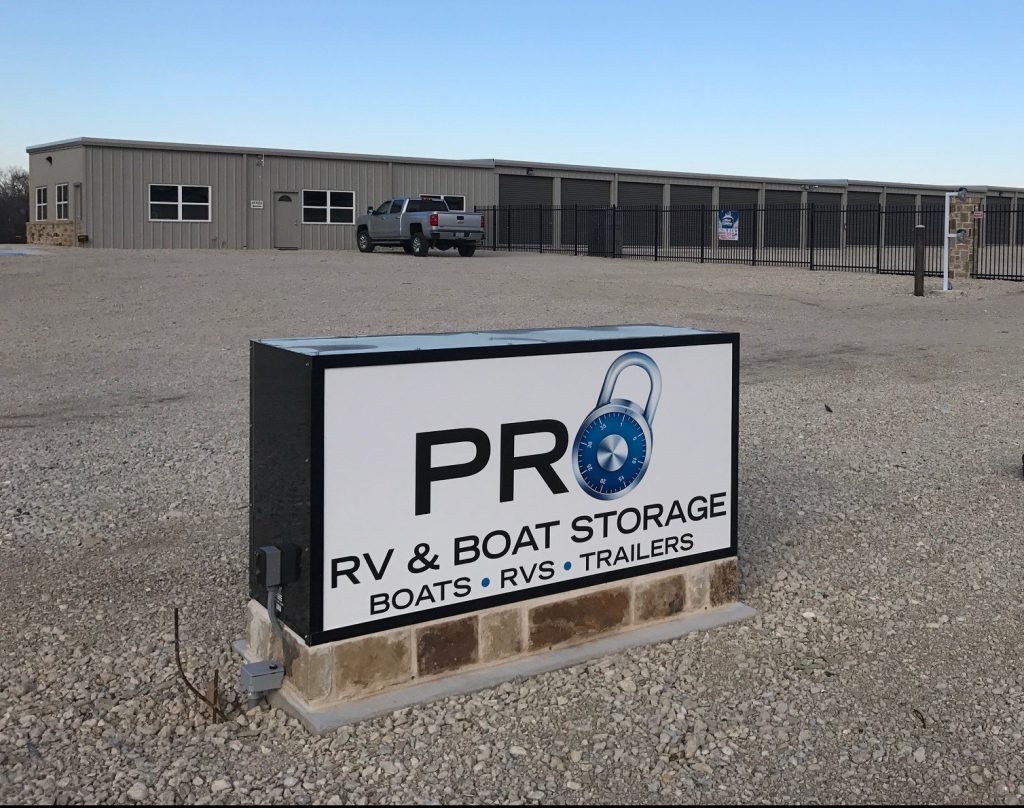 If you're looking for a Storage Facility to securely store your ATV, RV, or Boat, Pro RV & Boat Storage has got you covered! Here at Pro RV & Boat Storage, we offer a wide selection of parking units to accommodate your needs. To learn more about our storage facility, please check out our website at https://prorvandboatstorage.com/.