As fun as traveling is, when it comes to RVing, you can experience a whole new freedom and fun. What's better than having a home on wheels? Wherever you wanderlust may take you, you can return to your mobile comfort zone every night. Not only do you drive to picturesque locales, check-in the famous restaurants, experience different cultures, but you're doing it your way and at your convenience.
What if your tech gadgets run out of charge while you're docked? Or, you're staying overnight at a place with no hookups and generators anywhere in sight?In such circumstances, solar panels are indispensable.
Installing solar panels on your RVs is not as simple as it sounds, requires a lot of aspects to consider, and you definitely can't take this decision arbitrarily. We've come up with 7 tips to choose and install solar panels on your RV, so this renewable energy source keeps you juiced on the road.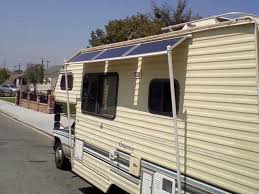 Streamline Your Requirements
Are you a travel enthusiast who loves boondocking? Then there is a strong chance you'll use your solar panels to their full potential.  However, if you occasionally travel after months for a vacation, you may want to rethink buying solar panels. Do you want to invest a hefty amount on solar panels when you don't go out with your RV that much?
An essential aspect to consider is the time when there's no sunlight. On cloudy or rainy days, you will inevitably rely on the generator or finding a place with an electric hookup. This is also where you'll want to charge the solar batteries.
Go for RV Solar Power System
Solar power systems on RVs consist of solar panels, batteries, along with charging and monitoring devices. If you choose to get your solar power system installed by a professional, make sure to ask probing questions. If you opt for the do-it-yourself experience, here is some necessary information to start with.
You can get a starter kit of 400Wh (Watt hours), which is sufficient for a standard RV. It comprises four solar panels along with wiring and an attached regulator or controller.
In addition, you also need to get batteries, a battery monitor, and an inverter. The inverter converts the DC power stored in the cells into AC power.
The more solar panels and batteries you have, the more power you can produce and store to run appliances.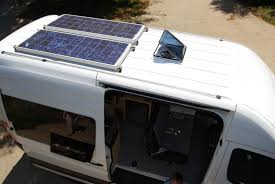 Know Your Budget
Ideally, a solar system of 400Wh can generate 2,000 watts, after 5 hours in bright sunlight. However, neither all days are preferably sunny, nor all systems are 100% efficient. So, the readings are theoretical. Initial setup requires an investment of $3,500-4,000, but it's sufficient to power all the appliances in your RV, excluding the refrigerator.
An additional cost you may incur, $800-1,200, would be if you plan to run your refrigerator all day long exclusively on solar power. There are no ongoing maintenance charges afterward unless you change or upgrade a part.
If you're a regular RV traveler, you may break even on your investment in about 2-3 years. After that, it's all net positive.
Figure Out the Expected Usage
While RVing, you need to figure out if you want to use solar energy to run your LEDs, charge your phones, other gadgets, or there is more. If you plan on using LED TVs and refrigerators on your solar energy, you may want to invest in more solar panels, maybe double than the initial estimate.
Some people want to run air conditioners on solar energy as well. It is somewhat impractical, as the RV will simply run out of space to accommodate a large number of solar panels. However, you may hook up a trailer along with the motorhome to hold additional solar panels. You may also want to invest in solar batteries. What's the point of producing excess solar power when you can't store it for night time or cloudy days?
Buy the Right Battery
Batteries carry great importance in the solar panel system. When the weather is not favorable or during night time, a battery can ensure solar power supply.
Typically, an RV has a 12V battery. However, it may not be enough if you want to run most of your appliances on solar energy. The power you're generating from the solar panels will decide how many cells you need.
Three battery technologies are available in the market. Let's discuss them briefly.
Lead-acid Battery
It's a deep-charge battery, readily available everywhere. The technology is reliable, and the battery is inexpensive. However, it requires periodic maintenance.
Drainage to less than fifty percent shortens its lifespan. Moreover, spilled battery acid is hazardous, so you need to handle it carefully.
AGM Battery
Its technology is somewhat similar to a lead-acid battery. However, it includes a thin fiberglass mat saturated with battery acid between the plates. Thus, the internal components are tightly packed and pill-proof. The battery is highly robust, charges four times faster than the lead-acid battery, and requires no maintenance. It's considerably more expensive than those mentioned above as well.
Lithium-ion Battery
It works on an entirely different principle. Performs much better than the previous two types, even though it weighs less than half of the similar capacity batteries aforementioned. The battery requires no maintenance and charges four times faster as well.
How to Decide Which Battery to Choose?
This decision depends on your budget and preference. Some people choose to invest in cheaper options and then change the batteries every two years. You can also buy an expensive battery and enjoy the quality performance with no maintenance for about eight to ten years.
Don't Compromise on the Quality of Solar Panels
If you want your solar panels to last long, you should consider their quality and durability. The best thing to do is invest in robust and corrosion-proof aluminum frames and legs. Choose durable and long-lasting latches, which have these capabilities and qualities:
endure the wear and tear during the time they're packed away.
are easy to set up.
can take the jerks and bumps on the road.
Moreover, the solar panel should be waterproof. Choose the ones that come with a dust proof cover and handles to ensure maximum maintenance and protection. Last but not least, make sure the solar panels and charge controllers come with warranties.
Buy Reputable Solar Panel Brands
There are a number of brands in the solar panel space. Here are some of them.
HQST
Renogy
Newpowa
Go Power
WindyNation
ACOPOWER
ALLPOWERS
It's better to go with trusted brands, especially if you are not familiar with solar panels. Read reviews online and speak to qualified sales reps. If your friends and family have experience of installing solar panels, you can take recommendations from them as well for a smoother experience.  
Wrap Up
If you take regular trips on your RV, a solar panel system is the right option to go for. We've discussed some of the essential pointers while choosing and installing solar panels on RVs. In short, don't follow the crowd and choose the system that best meets your needs. Analyze your load, usage, and other requirements, and then make a decision. 
If you're looking for a Storage Facility to securely store your ATV, RV, or Boat, Pro RV & Boat Storage has got you covered! Here at Pro RV & Boat Storage, we offer a wide selection of parking units to accommodate your needs. To learn more about our storage facility, please check out our website at https://prorvandboatstorage.com/.